Moong dal Upma / Hesarubele Uppittu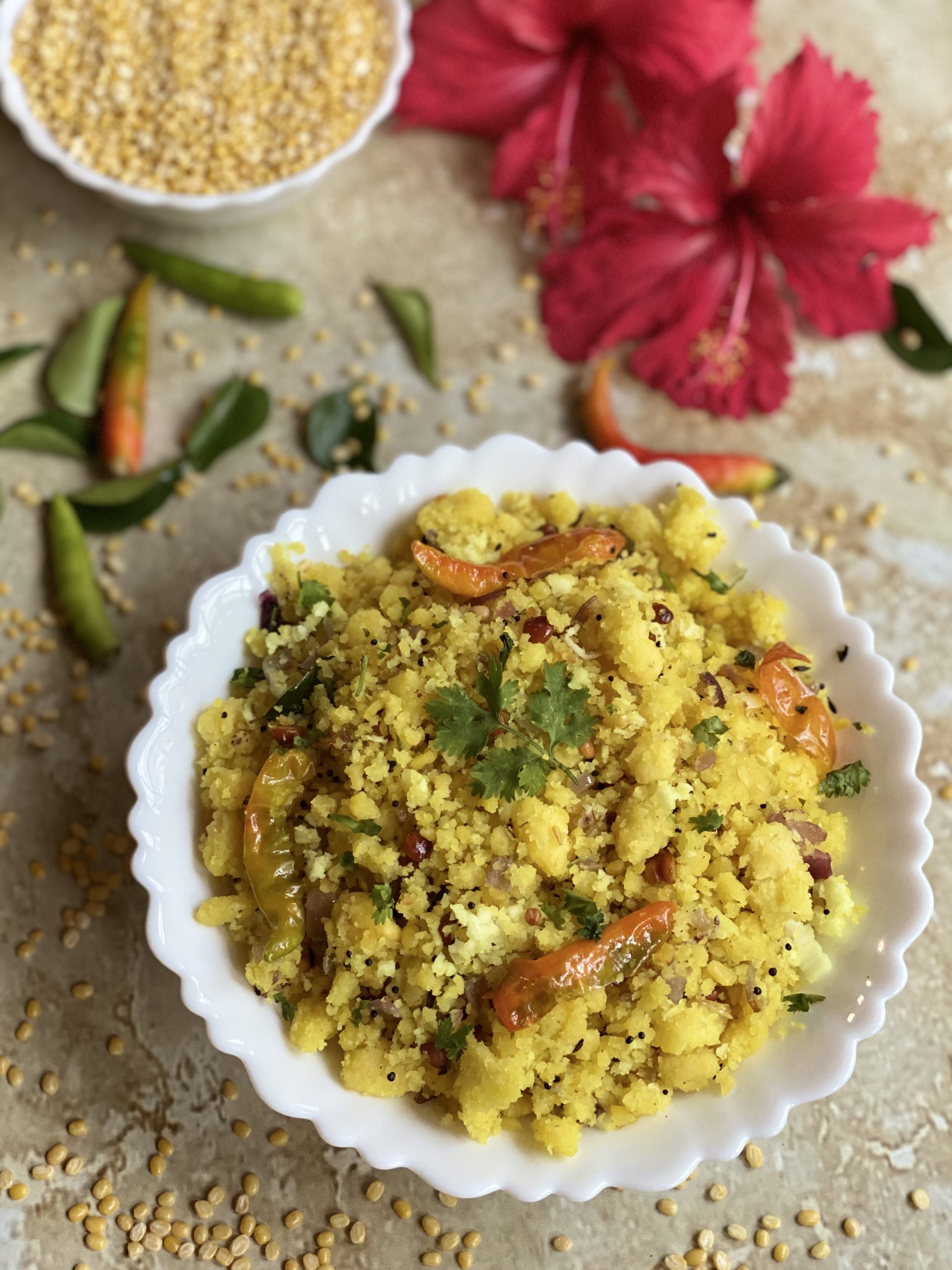 Moong dal recipe is very unique recipe for upma made entirely with Moong dal. This recipe is packed with Healthy Nutrients and High in Antioxidant. I learnt this from my mother in law. In our home this is a must recipe during Maha Shivaratri festival. Moong Dal is low in fat and content and very high on protein. Moong Dal is considered to be one of the plant based sources of protein. Moong dal is a perfect food for Summer too.
Wash and soak the Moong dal in water for about 4-5 hours. Wash it for several times and add dal and water to grinder, make a smooth paste. Add the salt and mix well.
Here I have added the batter in a bowl(grease with oil) and kept in idli steamer for about 15-20min and check it after 15min and check the idli by inserting a spoon and it should come out clean. Scoop it out and shred it using vegetable shredder or by using hand. Moong dal mix is ready now.
You can follow the same by adding the batter the idli mould and steam for 15-20min.
Now lets make upma / uppittu.
Heat oil in a pan until hot. Add in mustard seeds let it splutter then add cumin seeds, Bengal gram and urad dal, Then add asafetida, curry leaves, chopped green chillies, onions. Use lots of onion in this recipe it will be very tasty. Fry till onions are soft then add shredded dal and corianders, grated coconut, salt to taste and mix it well. Switch off the flame and lemon juice and give it mix. Now healthy moong dal is ready to serve.
Ingredients:
For Moong dal mix:
Moong dal – 1 cup(250ml)
Salt – 1 tsp
Water for grinding – 1/2 cup
Oil to grease the bowl – 1 tsp
For Tampering:
Oil – 3 tbsp
Mustard seeds – 1 tsp
Cumin seeds – ½ tsp
Green chillies – 4 nos
Few Curry leaves
Bengal gram – 1 tsp
Urad dal – 1 tsp
Asafoetida – ¼ tsp
Pinch of turmeric
Onion – 2 nos
Grated coconut – ½ cup
Lemon – 1
Salt to taste.
Coriander leaves – ½ cup
Method:
Wash and soak the Moong dal in water for about 4-5 hours. Wash it for several times and add dal and water to grinder.
Make a smooth paste and add salt, mix well. Consistency should be medium thick.
Add some water to idli vessel and put it on a medium flame. Here I have used vessel you can use idly mould.
Oil the bowl and gently fill the batter. Put inside the vessel and cover it. Steam it for 15min.
After 15min remove from heat and scoop it out to another bowl.
Shred it using vegetable shredder or by using hand(your preference) and set aside.
Add oil in a pan, add in mustard seeds once it starts spluttering add cumin seeds, Bengal gram(kadlebele) and urad dal, asafoetida, slit green chillies, curry leaves, onions.
Saute till the onions are soft. Then add shredded moong dal, salt to taste(be careful, we have added salt before).
Add grated coconut and coriander leaves. Mix well and switch off the flame.
Now add Lemon juice give it a mix one more time and Moong dal is ready to serve.
Serve warm with coconut chutney or pickle or you can enjoy as it is!
NOTE:

Don't add more water while grinding later after moong dal is steamed it becomes hard.

Use oil and onion as mentioned for proper consistency and taste.

Don't forget to squeeze 1/2 or 1 lemon at the end of recipe. I have mentioned one. If its bigger in size then recommend using 1/2 lemon.

You can soak dal overnight and grind in the morning. No fermentation required for this recipe.
If you try any of my recipes don't forget to tag me on Instagram @wompindiacooks . You can also check out facebook page wompindiacooks. You can share your photos with me anywhere. I would love to see your creations from my space.
---