Vegetable Biryani | Biryani recipe | Veg Biryani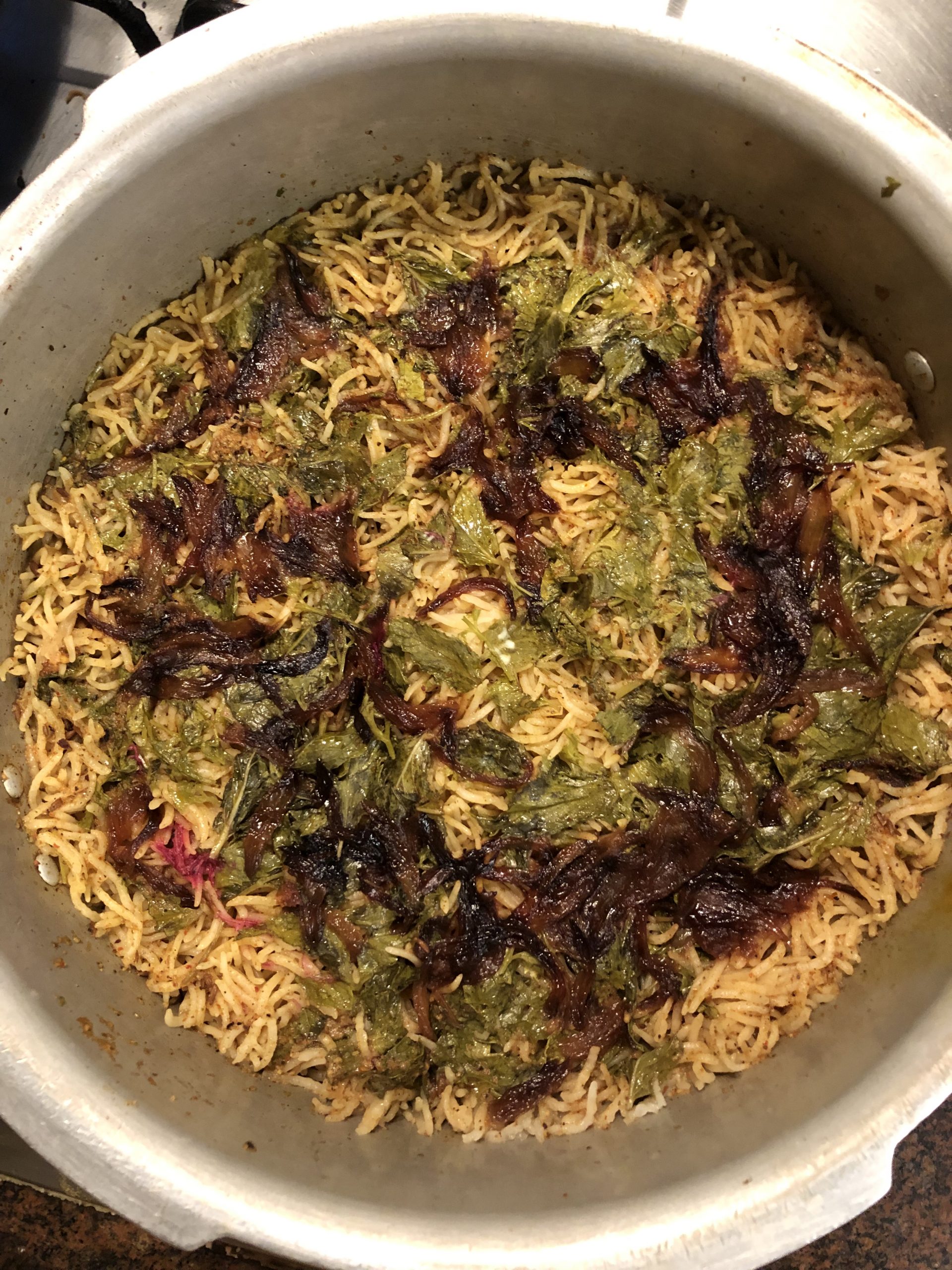 There are so many varieties of cooking veg biryani. They all have their own taste and flavors. This vegetable Biryani is light, spicy and super delicious. The subtle flavors of garam masala, onions and curd are so infused in the vegetables.
You can experience taste and flavor in each bite of the vegetable. Most of few know how much vinay love Biryani. Due to quarantine it has become more difficult for not able to eat outside. Hence i thought why not i prepare veg biryani at home that to on special occasion that's on his birthday.
Oh yeah, we absolutely loved the taste of this delicious biryani. I ended up making again after two days. It was a hit.
Its best to use all the ingredients mentioned below. I hope you enjoy making this recipe as much as I enjoyed making the biryani.
Ingredients:
Oil – 3 tbsp
Onion – 2(large), 1(slices),1(dice)
Paneer (Indian cottage cheese) – 100gm
French Beans – 1/2 cup
Carrot – 1/3 cup
Potato – 1
Basmati rice – 1 1/2 cup
Water – 3 cups
Milk – 1/2 tsp
Curd – 1 cup
Salt to taste
Garam masala – 1 tsp
Red Chilli powder – 1 tsp
Turmeric powder -1/3 tsp
Cumin powder – 1/3 tsp
Coriander powder – 1/3 tsp
Biryani masala – 2 tsp
Mint/ Pudina leaves – 1/4 cup
Coriander leaves- 1/3 cup
Ghee – 2 tbsp
Cumin seeds – 1/2 tsp
Cinnamon – 1 inch
Bay leaves – 1
Mace(javitri) -1/3
Ginger Garlic paste – 1tbsp
Few saffron or one pinch(optional).
Food colour(optional).
Method:
In a cooker pan, add oil, let it heat on high flame.
Now add onion slices fry it till it turns brown. Keep the flame on medium-high.
Once it turns brown, take it out.
Add paneer, fry it for a minute on medium flame.
Add vegetables, fry it for 3-4 minutes on medium flame.
Take out the fried vegetables.
Add oil if needed(let the oil heat properly)
Then add all the whole spices, finely chopped onions. Fry it for 2-3 minutes on medium flame.
Wash the rice and keep it aside.(Don't soak it, wash it and keep it for 10-15 minutes)
Add ginger garlic paste. Cook it for few seconds on medium flame.
Reduce the flame to low. Add turmeric powder, chilli powder, coriander and cumin powder, Biryani masala. Cook it for few seconds on low flames.
Turn off the flame and let it cool down.
Once it cools down, add curd and mix it.
Add all the fried vegetables, paneer and salt. Mix it well and turn on the flame.
Cook for a minute on medium flame( cover the pan ).
Add little salt into washed rice so that salt is evenly spread.
Open the lid and stir it. Turn Off the flame again before layering.
Add one glass of water(Don't stir it).
Add little mint leaves and coriander leaves. Little amount of garam masala, salt and fried onion, 1 tbsp ghee.
Now add the rice and spread it evenly.
Add remaining mint and coriander leaves. And also garam masala and salt.
Add saffron milk(kesar) and one tbsp of ghee.
You can also add food colour if you like(optional).
Add remaining fried onions and 2 glass of water again.(use 1.5 glass of water for one glass of rice)
Turn on the flame and close the lid.
After one whistle, reduce the flame to low and cook for about 3-4 minutes on low flame.
Turn off the flame and let it cool completely.(Do not open before 15 minutes)
Open and check it and mix gently from the sides.
You can serve as it is or close the lid and leave it for 3-4minutes(flame should be off).
Take it out in a serving plate and serve it hot with raita or salon.
Note:

I have used shahi biryani masala you can use any other biryani masala.

As mentioned there are many varieties to prepare biryani. I have used pressure cooker method.

I clearly say that this is not pulao! Its Biryani.
I will be updating step wise pictures when I make it next time. If you try any of my recipes don't forget to tag me on Instagram @wompindiacooks or you can share your photos with me on Facebook. I would love to see your creations from my space.
---