Kashi Halwa Recipe | White Pumpkin Halwa Recipe | Ash Gourd Halwa Recipe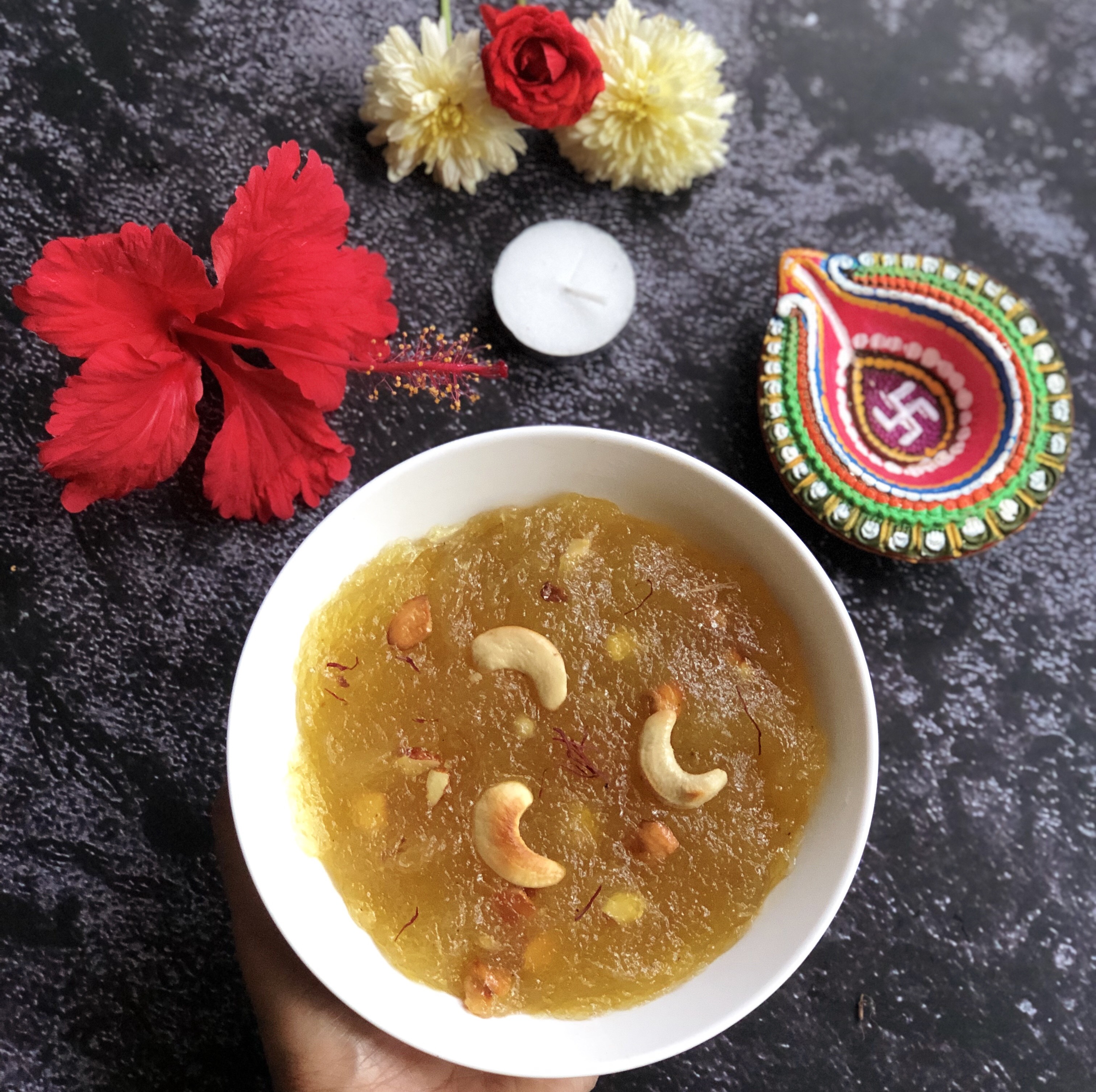 Kasi(Kashi) Halwa / Pumpkin Halwa / White Pumpkin Recipe
I made this during last Diwali/ Deepavali. It's one of Vinay's favourite dessert so I making it often these days. This can be made using milk or without milk, me and Vinay personally like without added milk version more.
This Halwa is so delicious and melt in the mouth texture. There were a few requests for the recipe of ash gourd Halwa hence I made it again and this is first sweet dish to prepare this year.
The recipe is very easy to make and for sure you won't believe that the Halwa is made from ash gourd(I didn't believe long back when I had it). Also in this recipe I have not strain the grated ash gourd.
Serve Kashi halwa as a naivedya during festivals or offer to deities.
INGREDIENTS:
White Pumpkin- 1 cup(grated)
Sugar – 3/4 cup
Cashews – 6-7 broken
Cardamom powder – 1/2 tsp
Kesari / saffron – generous pinch
Raisins – 6
Ghee – 2-3 tbsp
METHOD:
First, rinse and remove the seeds and then chop it in large/small pieces so that you can easily grate.
Grate the ash gourd I have used one cup of grated ash gourd.
Add the grated Pumpkin, along with juice(don't strain it) and saute till raw aroma goes away and close the lid.
Do check every 4-5 minutes. It has enough water to cook in its own juice.It may take around 10-15minutes.
Now add sugar and mix it well.
Then add generous pinch of saffron strands. Saffron strands are used to give a nice yellow or orange colour and also for aroma. If you don't have saffron then skip it or use an orange natural colouring extract.
Mix saffron and sugar very well.
Keep on stirring the halwa mixture in low flame.
Once the mixture start thickens and leave the sides of the pan keep stirring it often.
Then add ghee and mix well.
Saute on a low flame till the halwa starts separating from the pan. It takes 2-4minutes.
Then switch off the flame add cardamom powder.
In a small pan, add 1 tsp of ghee add cashews saute till cashews turn light brown and then add raisins till they swell or puff up.
Add this to halwa and mix well.
Let the kashi halwa cool down a bit and then serve or also at room temperature.
NOTE:
If you prefer richer or greasy version for 1 cup you can add 5 tsp of ghee.
If you try any of my recipes do tag me on Instagram @wompindiacooks or do comments below. I would love to see your creations from my space.
---