South Indian Gun powder|Molaga podi |chutney pudi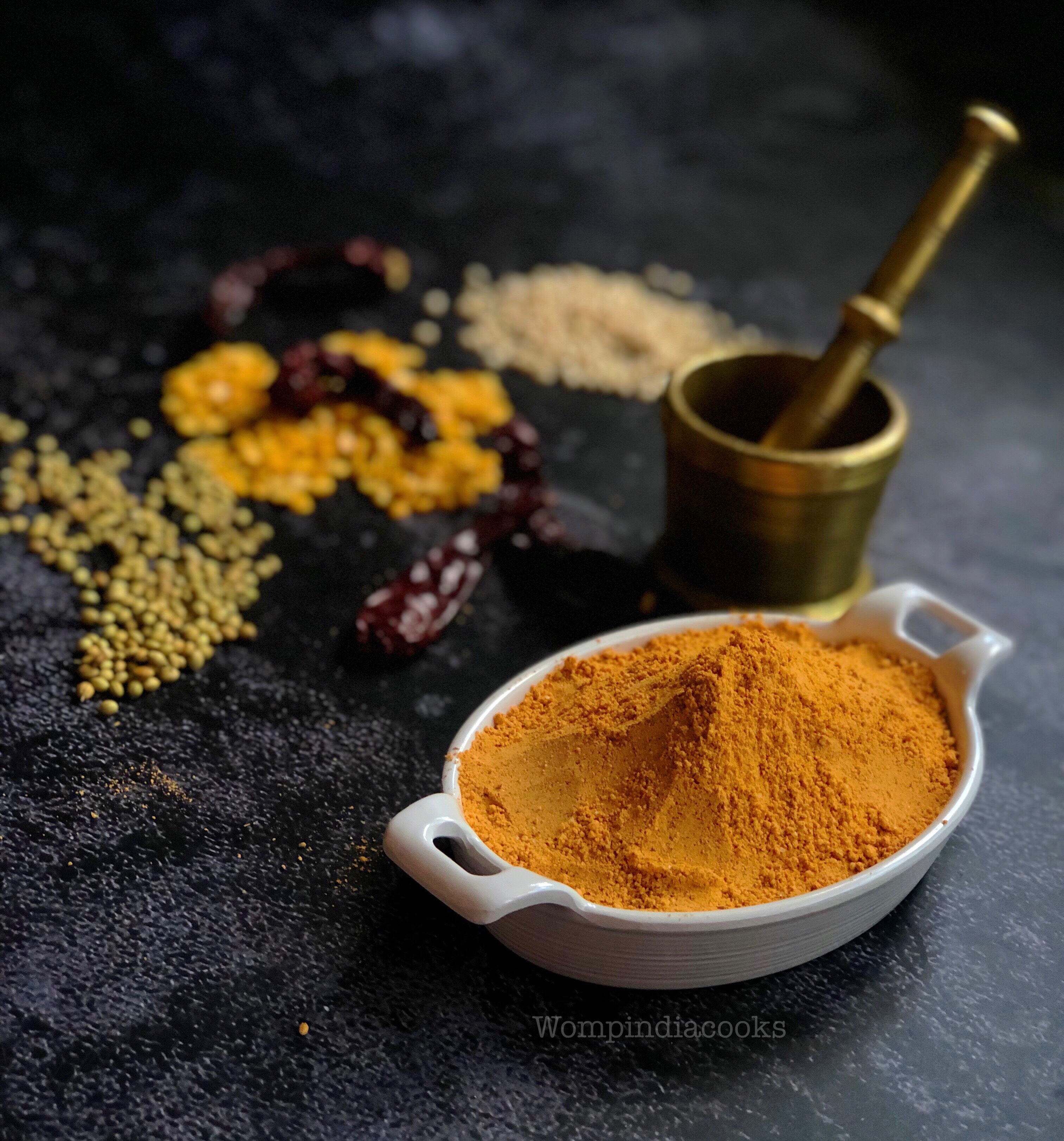 Gun powder/ Molaga podi is a versatile food item, which can be used both as a seasoning, or as a side dish or even as a powder for any of your choice of potato or vegetable fries. Vinay love it with steamed rice with dollops of ghee. Also gun powder or Molaga podi is a favorite staple long shelf life chutney powder in most South Indian home.
It is called chutney pudi in Karnataka. In many south Indian homes this spicy chutney powder is the only accompaniment for idli and dosa as it is prepared and stored for easy use. All one needs to do is to add some gingelly (sesame) oil to it and mix, for a spicy accompaniment.
When had with idli, molaga podi is tradionally had like a dip, where the idlis are coated with a podi tampering with sesame oil /ghee mix.For dosa the podi sprinkled with few drops on ghee on top. You just need 15 minutes to prepare this podi. This recipe change from state to state. Do make a batch of it and store it and enjoy.
Ingredients:
100gms split Chickpeas/ Bengal gram/ Channa dal/ Kadale bele
50gms Urad dal/ Uddina bele
1tbsp Toor dal/ Thogari bele
50gms Basmati rice
Pinch of Fenugreek seeds/ Menthye kalu
30gms of Kashmiri red chillies / Byadagi chilli or menasinakayi
1tbsp Coriander seeds/ Kottambari bija
1tsp Oil
Salt to taste.
Method:
Take a heavy bottomed kadai Add split chickpeas roast it from slow to medium heat for about 10-15min till it's nice golden brown colour. It's very important to roast chana dal well because that's gonna define taste of gun powder.
Next thing is to add urad dal, toor dal and also basmati rice and fenugreek seeds, saute everything till golden brown.
Transfer into a bowl or plate let it cool. To the same pan add oil and coriander seeds saute for a min and add Kashmiri red chillies , oil is added so that chillies to get out its natural flavour and oil .
Ensure to roast it in low flame till it turns crisp. Transfer these to same bowl.
After the mixture is cooled down completely for room temperature(about 30min).
Add salt and mix well and add it to mixer grind it.
Gun powder/Molaga podi is now ready. Now all you need is steaming hot Idly, rice, dosa or uttapams.
Note:
• Don't add more fenugreek seeds because when the gun powder is kept longer it may turn slightly bitter.
• Adding basmati rice gives the fragrance to the gun powder.
• When you want to use the powder. Serve it along the idli's or dosa's and pour a little cooking oil or gingelly oil(sesame oil) on the powder until it forms a good thick consistency(similar to that of a chutney) and dip the idli's or dosa's and eat away!
---