Mango Gojju|Mavinkayi Gojju recipe |Raw Mango recipe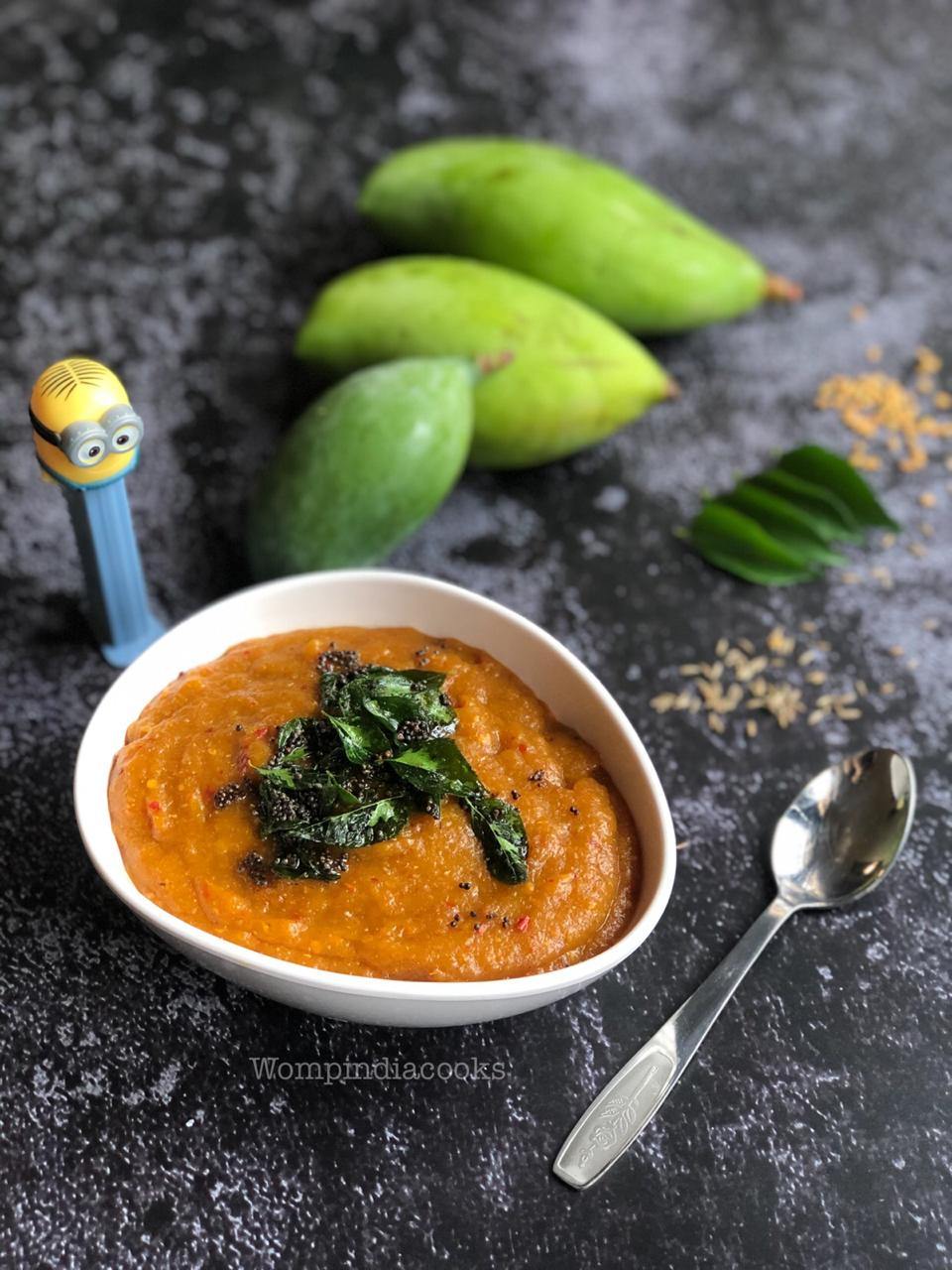 When Mango season is here Mango Gojju is a must in every Indian Home. This Tangy Spicy Gojju can be just made in 30mins and shelf life is 2 to 3 weeks when refrigerated. But I'm sure it won't lasts so long 😬. This is Recipe from my mom kitchen 🙂
If you love mangoes you will definitely love this mavinkayi gojju. This recipe of mavinkayi gojju is tangy, spicy, slightly sweet and utterly delicious and lip smacking good! I'm literally drooling while this blog now. You will know once you try them. Mango gojju is quite popular in the state of Karnataka. Gojju means side dish in Kannada. 
Summer means mango and mango and mango in most of the house. be it unripe or ripe one. Got my hands on raw mango and first thing i did is to do mango gojju or mavinkayi gojju, utterly delicious and taste fabulous when paired with steaming hot rice and also that tickle feeling to taste buds when eat it. Yummy!
Serve Mavinkayi gojju with steamed rice, Chapathi, Idly, rotti and parathas.
Ingredients:
* Raw Mango, peeled and chopped – 1 
* Coriander seeds – 2 tsp
* Onions – 2(roughly chopped)
* Cloves of garlic – 10-12
* Fenugreek seeds – 5-6 nos
* Cumin seeds – 1 tsp
* Turmeric – 1/4 tsp
* Red spicy chilli – 10
* Dry red chilli – 2-3 nos
* Jaggery – 1/4 cup
* Salt to taste
For tampering/ seasoning:
* 5-6 tsp of oil
* 1/2 tsp mustard seeds
* Curry leaves
* Pinch of asafoetida/ hing.
Method:
1. In a pre heated pan, dry roast coriander seeds, cumin seeds, fenugreek seeds, red chilli for 20seconds.
2. Remove from stove and cool roasted items to room temperature.
3. To a mixer add the roasted items, 2 roughly chopped onions, 10 cloves of garlic, turmeric and grind to thick paste. Don't add water.
4. Also add in roughly chopped raw mango and grind to a smooth or thick paste according to your preference.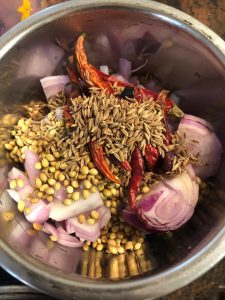 5. Now in a pan add 5-6 tsp of oil add the ground paste, jaggery and salt to taste.
6. Saute on low flame for 5-10 minutes till raw taste of masala goes away and oil oozes out of the gojju. Switch off the flame.
7. For seasoning in a small kadai add oil, mustard seeds, asafoetida and curry leaves.
8. Add seasoning to gojju and mix well and Mavinkayi Gojju is ready to enjoy.
Note:
* Store it in jar once it's cooled down to room temperature. It stays good for months when refrigerated. Tastes awesome with Chapathi, Akki rotti, steamed rice, parathas, Dosa, Idly.
* Don't add more fenugreek seeds as it will give bitter taste.
* I have used sour mango so jaggery is a must. If you are using slightly sweet mango u can skip jaggery and add tamarind pulp.
Let me know if you guys try and enjoy it. Would love to hear feedback from you all on this. If you try please or kindly post your comment below in comment section or post it with due courtesy in Instagram. It will be really helpful for me and happy to see your feedback.
---