Mango rice / Mavinkayi Chitranna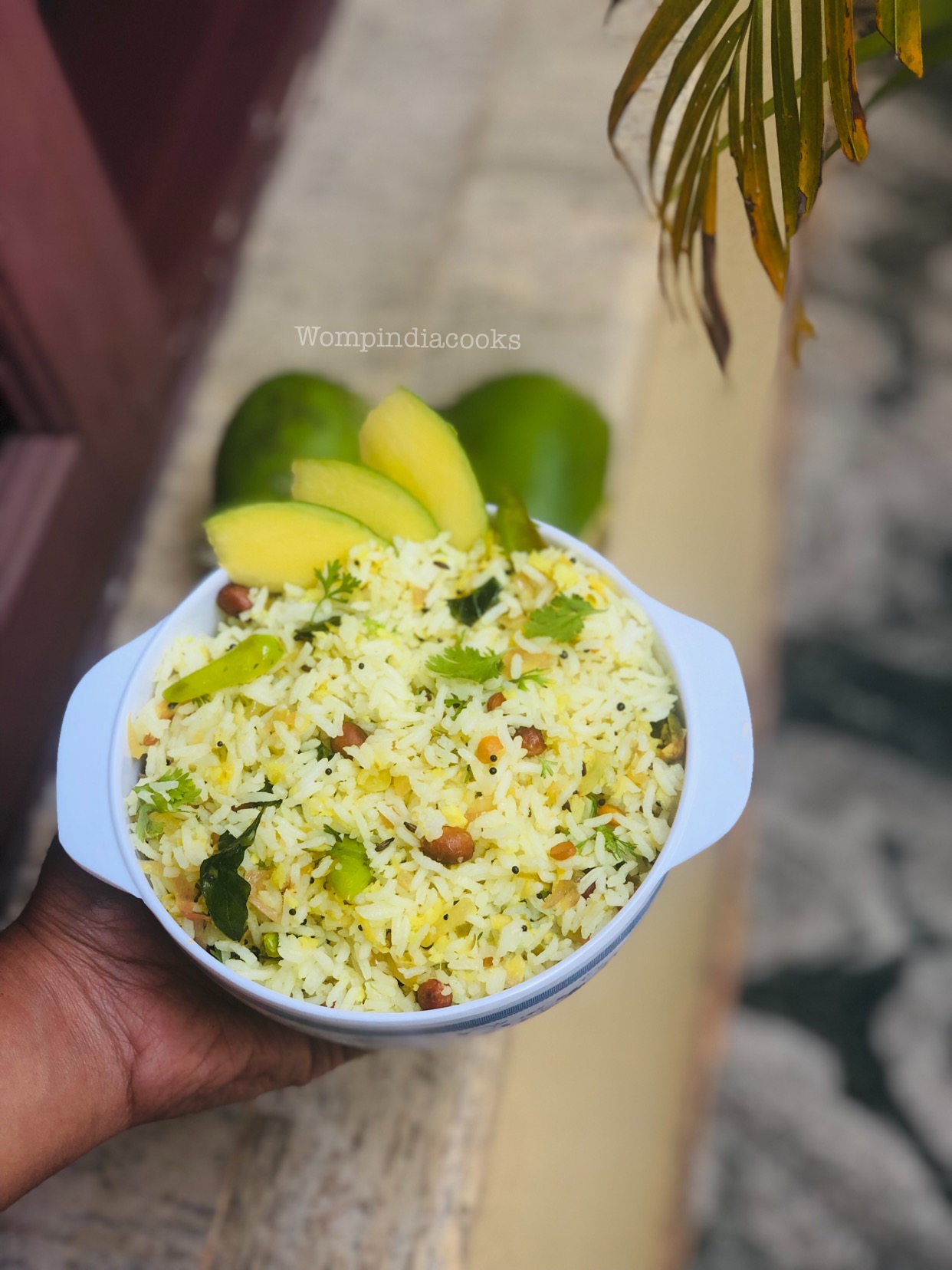 A simple raw mango flavoured rice recipe which can be Ideal for breakfast, lunch box and I personally like for dinner time as well. I love chitranna and specially Mavinkayi chitranna is everyone's favourite in home.
Chitranna is typical Karnataka style Mango chitranna prepared in South Indian Delicacy and traditionally chitranna recipe is prepared with leftover rice as it will be more flavourful. You can also cook with freshly prepared rice but it has to be dry not moisture.
Mango rice | Mavinkayi chitranna is prepared with leftover rice with lemon juice and spices. Lemon juice is added to get the tangy flavour. So however Mavinkayi chitranna is added in place of lemon juice and hence the name Mavinkayi chitranna!
In our home, I usually prepare rice every day for lunch or dinner and sometimes end up cooking more which then I use it for breakfast to prepare akki rotti or Chitranna. During summer I end up cooking Mango rice often and this is everyone's favourite.
Ingredients:
* 3 tbsp of oil
* 1 tsp mustard seeds
* 1 tsp cumin seeds
* 1 tsp chana dal
* Pinch of asafoetida
* 1 tsp urad dal
* 3 tsp peanuts / groundnut
* Few curry leaves
* 1 raw mango , grated
* 4-5 green chilli
* 1/4 tsp of turmeric
* 1 onion, finely chopped
* Salt to taste
* 2 tbsp freshly grated coconut
* 2 tbsp of coriander leaves, finely chopped
Method:
1. In a large kadai heat oil.
2. Add in 1 tsp of mustard seeds, 3 tsp of peanuts and sauté for a minute.
3. Add in 1 tsp of cumin seeds, 1 tsp of urad dal, 1 tsp of chana dal, pinch of hing/ asafoetida and curry leaves and let it splutter.
4. Also add in green chili, onion, and pinch of salt and 1/4 tsp of turmeric and sauté till onion become translucent.
5. Furthermore, add in 2 tbsp of grated coconut and sauté for a minute or so.
6. Add in grated mango and switch off the flame and sauté it.
7. Now add in cooked rice, salt to taste and 2 tbsp of finely chopped coriander leaves.
8. Mix well and mavinkayi chitranna is ready to serve.
Note:
Always use raw mango. Make sure mango is not ripe and doesn't have sweet in taste.
---