Quirky Interiors, Lip Smacking Food, Signature Cocktails, You still want to read more? NEVERMIND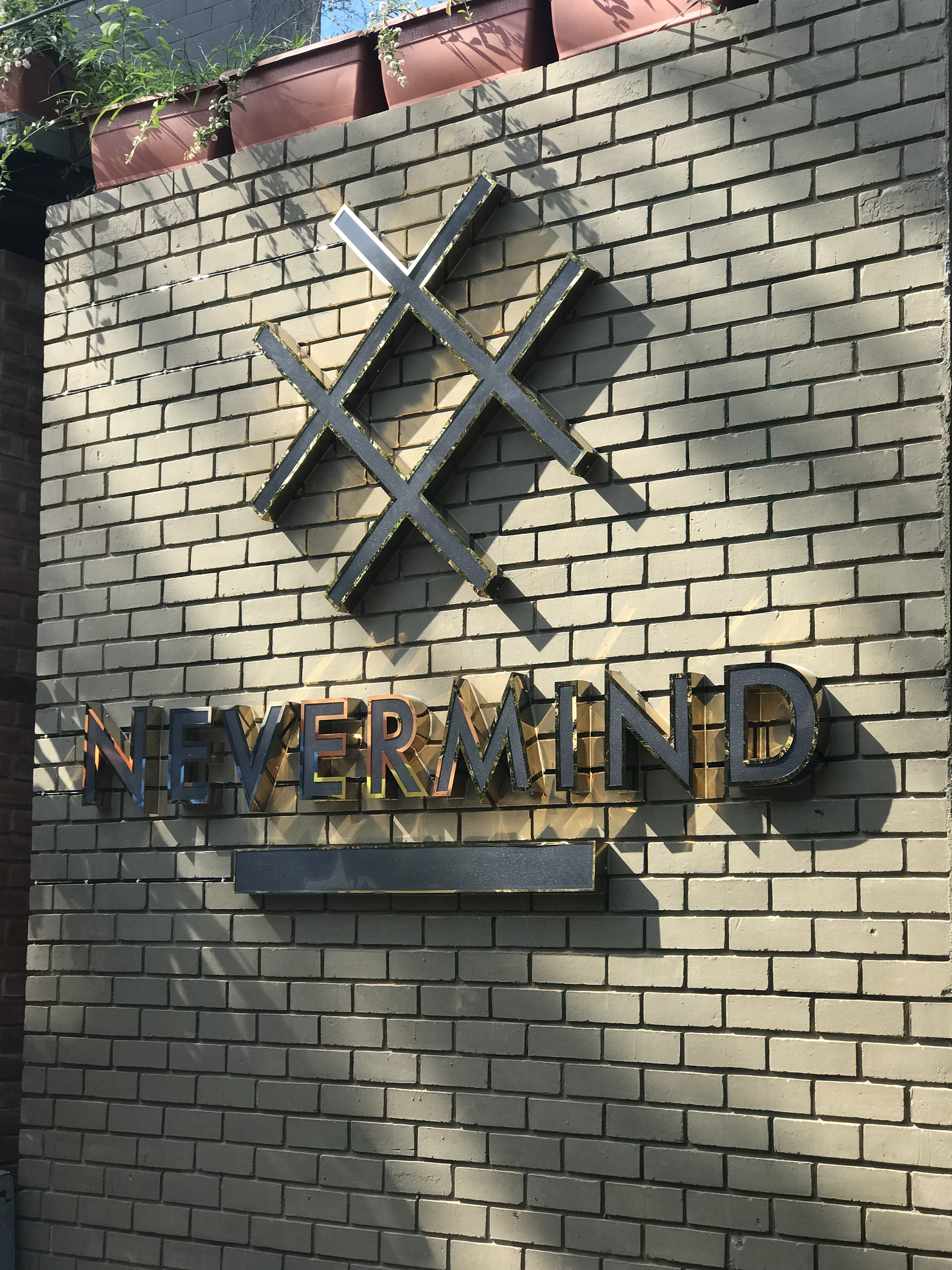 Quirky Interiors, Lip Smacking Food, Signature Cocktails, You still want to read more? NEVERMIND 🙂
Indiranagar is blessed with a new place on the 12th Main Road. You ask me what's new about that?
Nevermind, But you should know the reason why I said Blessed, Because this place is Conceptualized by Bangalore's Sensation – Rohit Barker, Shylesh Jain, and Rice's Obliquity team. As they say "Nevermind has been created to be an escape within your own city; a place with a tropical touch, a place where intimate conversations are possible; a place where a lively ambiance that is so characteristic of Bangalore is not too far away."
This is so true to every single word they meant. I just loved those group igloo-styled pods within the place which not only allows you to bring your gang closer but also help you have a better conversation due to the music volume gets cut off to good extent. Its Quirky but classy, I would just call it smart design and something I haven't come across in Bangalore for sure.
Bringing into the ambiance and music, Rohit Barker himself decides how the party should be set every single time. One can possibly run out of excuses to not choose this place. If you run out of topic to talk Nevermind has your back. Their interiors will sure to bring in some topics to discuss.
Cocktails:
Nevermind not just brings you cocktails but a amalgamation of different portions to quench your thirst. Some of their signature cocktails you definitely need to try are.
A Cane Sangria – White wine, pineapple sour, ginger, lime and sugarcane juice.
The Good Wife – Coconut cream, white rum, an infusion of curry leaf, coconut water and sugar syrup may be your thing.
Brandy lovers can give the Dreamer of Dreams with coconut syrup, cherry and bitters a shot.
If you want to impress your companion with some drama on the table then The Smokin Tea Time with Kahlua is what you need to order, Tea infused white rum and some sugar syrup is a brilliant concoction.
My favorite of the lot was "Cottage in the Woods" A simple refreshing Whiskey based cocktail which I could not resist from my first sip. I could just not shift to any other cocktail.
I must say the Duck curry was to die for. Edmame Garlic rice complimented the curries so well that we couldn't stop eating. Later we got the Coastal Prawn Curry which got over in exactly 6 seconds just for the fact the aroma that we got from the bowl made our stomach roar for more. So we offloaded the container to our plates and the group went silent while eating this. That's my one line feedback.
We were literally in food coma and just when we were saying to each other "This can't get any better" the captain of the restaurant asked us those magical words.
"Sir any desserts?"
Let me clarify you one thing for sure. No matter how much I ate just 15 seconds back, There is always a separate compartment in my tummy for Desserts. So we ordered.
Being the Banoffee Maniac I am I couldn't resist but to order their Banofee Cheesecake. Later one of the group members decides to order their JD Mud Cake. If you ask my recommendation then here it is, "Asking for a bill without ordering these two desserts is a SIN". Do not miss these desserts at Nevermind.
A little bit more about the place
Opening Hours:
Monday – Thursday: 12 noon to 12pm
Friday – Sunday: 12noon to 1am
Wallet Factor:
1800+ + with alcohol
1000+ + without alcohol
Ratings: 4.8/5
---