YouMee – A dining experience Restaurant at Forum Shantiniketan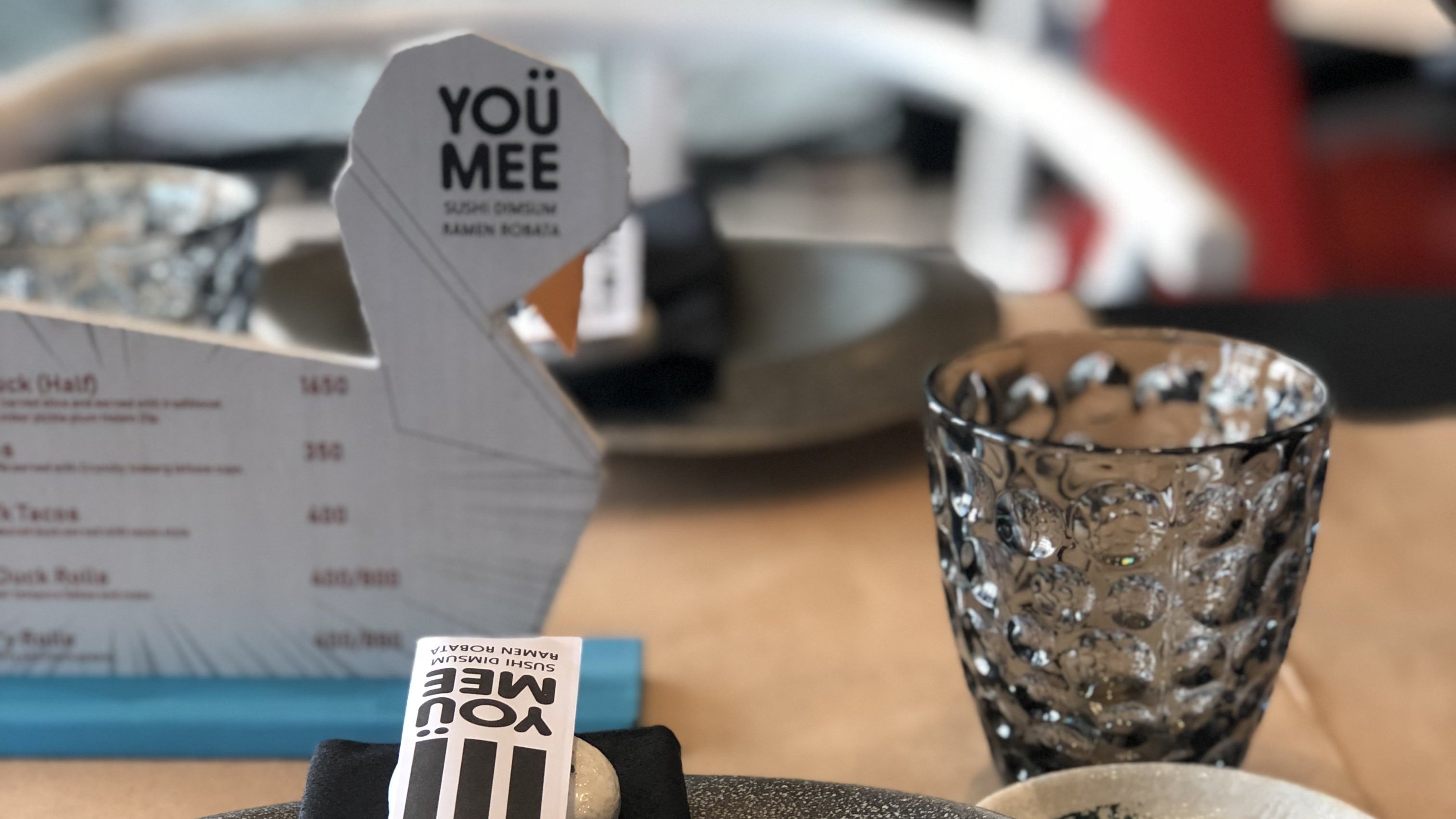 YouMee – A dining experience Restaurant at Forum Shantiniketan, Thai and Chinese Cuisine. This is also on the ground floor next to Punjab Grill. Let's start from Ambiance The thing I love the most is chopsticks wrapped in the YOUMEE covers and the little stone on every seat for the chopsticks to rest on, that's very interesting, isn't it?
The wall with Manga comics and hand paint are unique. Their cutlery is unique and fantastic, you can check them in my pictures as well. Wall are painted black and write with nice wordings as well..
Food:
This is the Must try for all the Sushi and Dimsum Lovers over here! This is the place you should never miss..
They have variety of Sushi 🍣 I tried few of them, Edemame California: This has Edamame, Avacado, Mayo and carrots 🥕 YouMee Garden Dragon: I liked this more than Edemame sushi .. roasted peas, sauce and cheese were drizzled all over and the presentation like a dragon in the front, I loved it!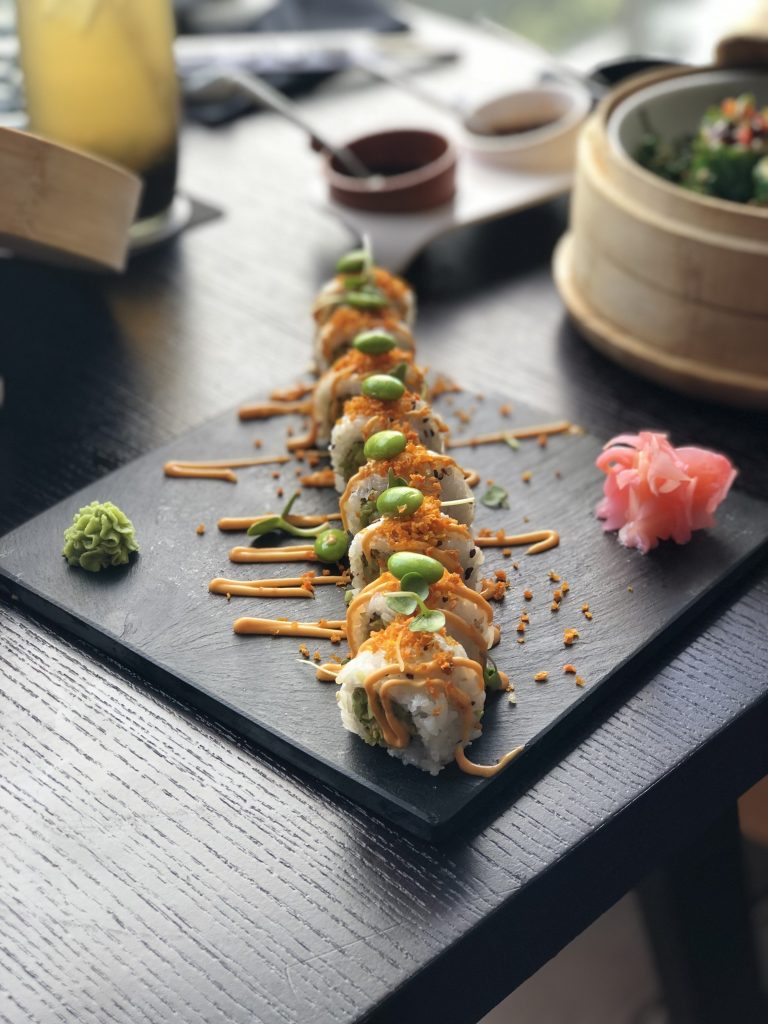 Dimsum:
BBC -Beans, Bokchoy and Cheesenut Dumplings 🥟 :hmm yumm! This was crunchy and taste it gave was really good..
New York Cheese and Chilli Oil Dumplings 🥟 : this would be best for cheese lovers out there.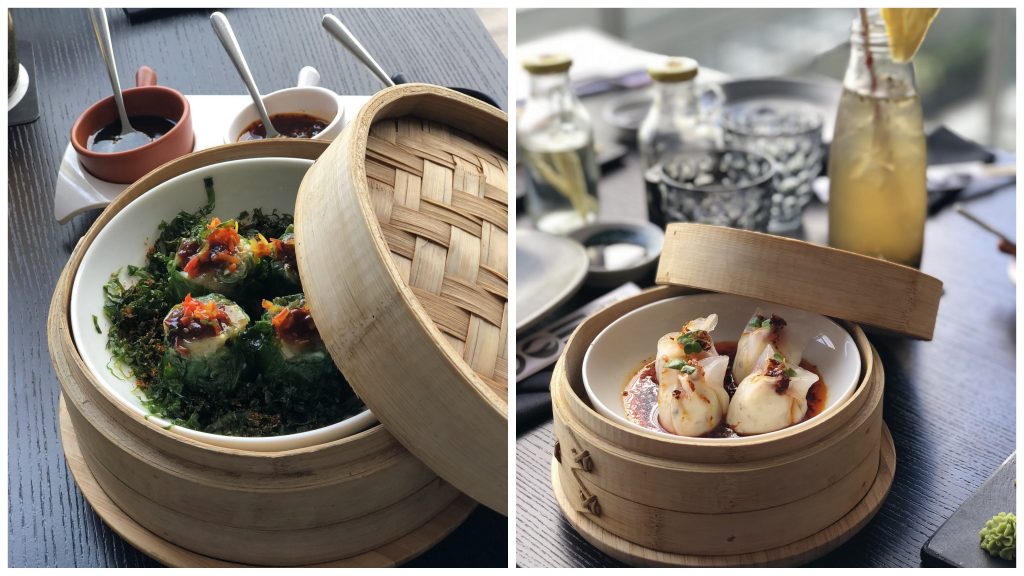 Salad:
Raw papaya Som Tam:
Oh man! This is Amazingly heaven salad 🥗 . Those green shredded papaya with spicy, tangy with crunchy peanuts! This became one of my favourite salad ever..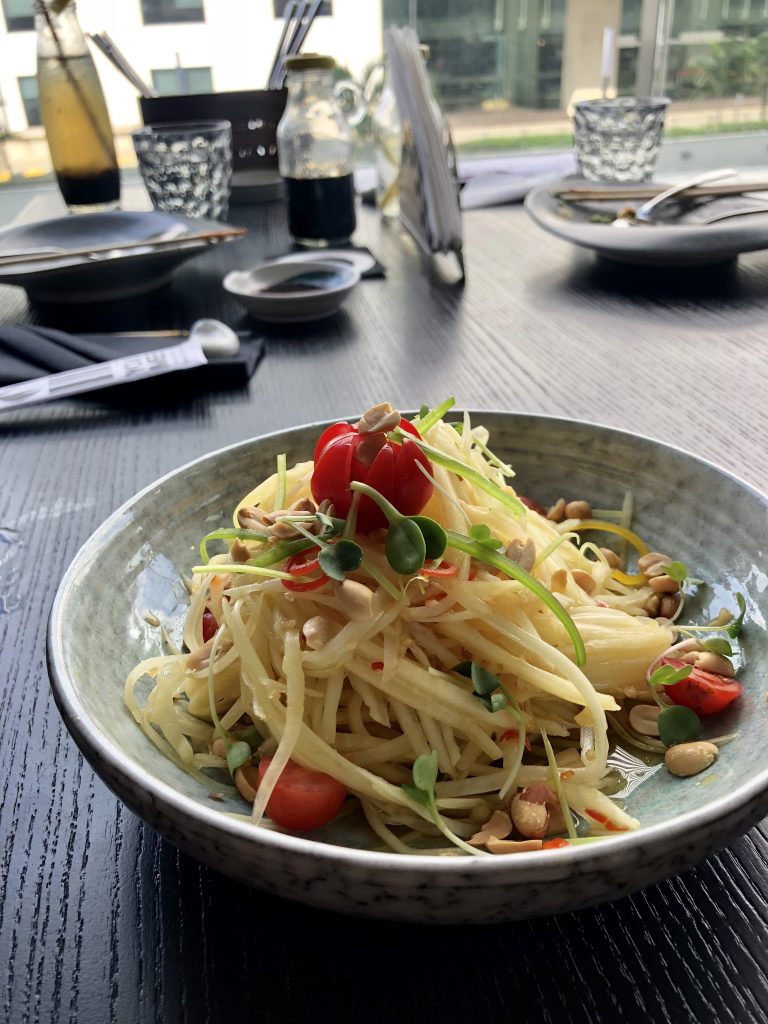 Robata:
Three Mushroom Skewers with Garlic pepper butter.. those shiitake, white fungus, button mushroom kikkoman soy and black pepper was perfectly done and well presented..
Noodles:
Silicon Tofu with Wok tossed Hakka Noodles was also amazing with perfect amount of spice complementing well with Tofu..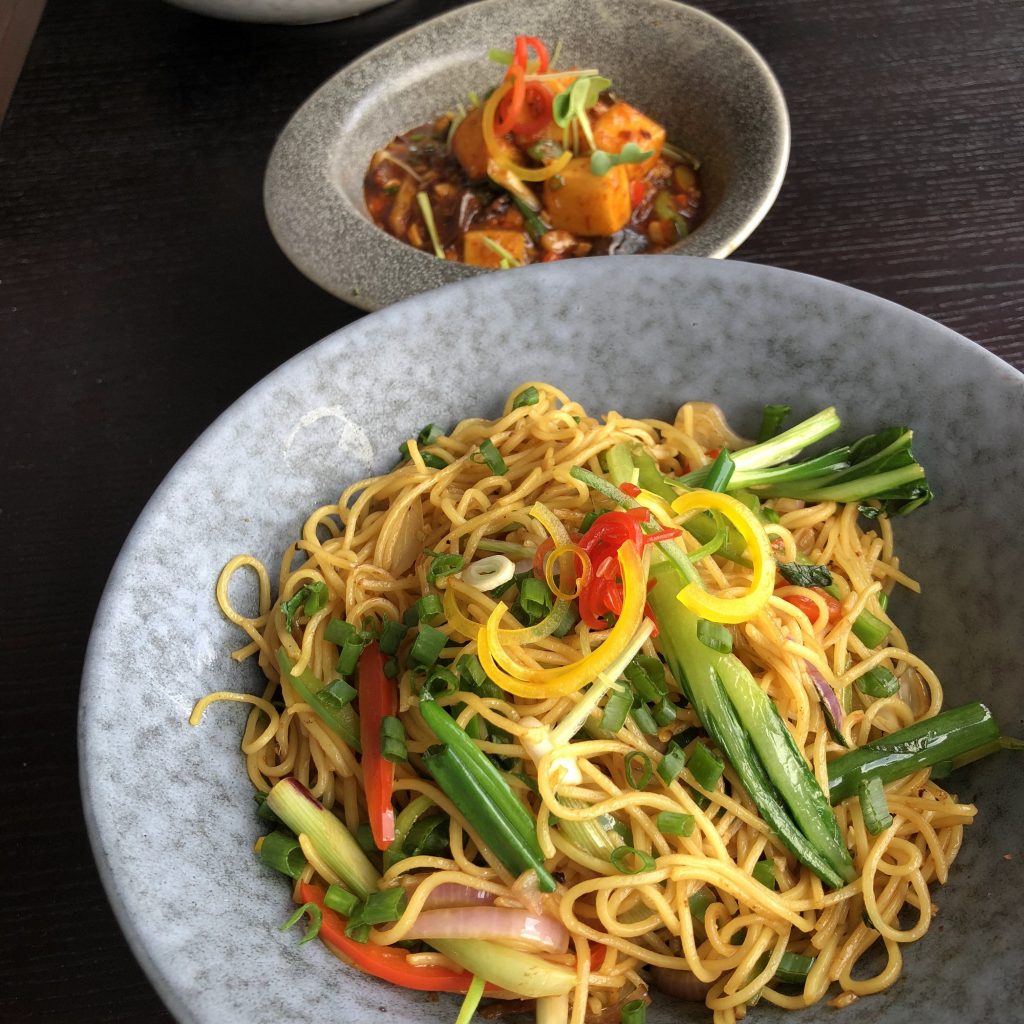 Drink:
Geisha: It was absolutely very much refreshing drink. This was my first ever tea with such unique smell and it was so good!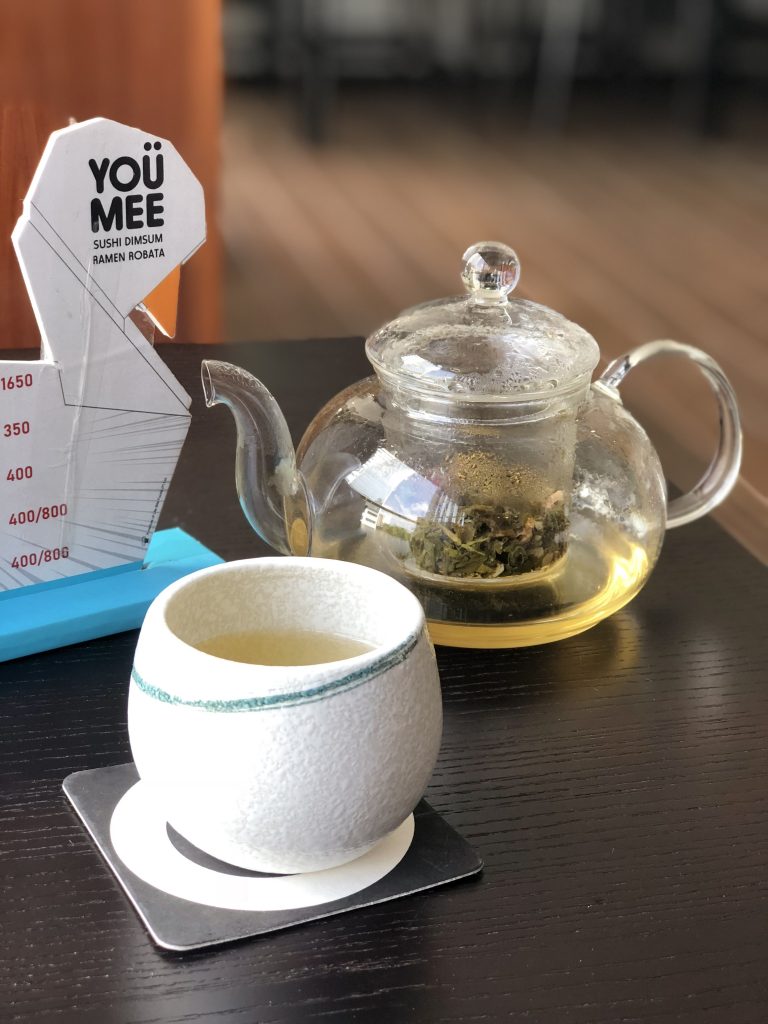 Dessert:
Banana Fritter Sundae: One more outstanding dessert! Fried Banana served with vanilla ice cream and chocolate.. Heavenly ! Believe me I'm drooling over it while writing this! Enjoyed it so much.. #Highlyrecommend
Traditional Thai water chestnut: This is again a very unique dessert. Water chestnut with tapioca flavour, overall it was refreshing one..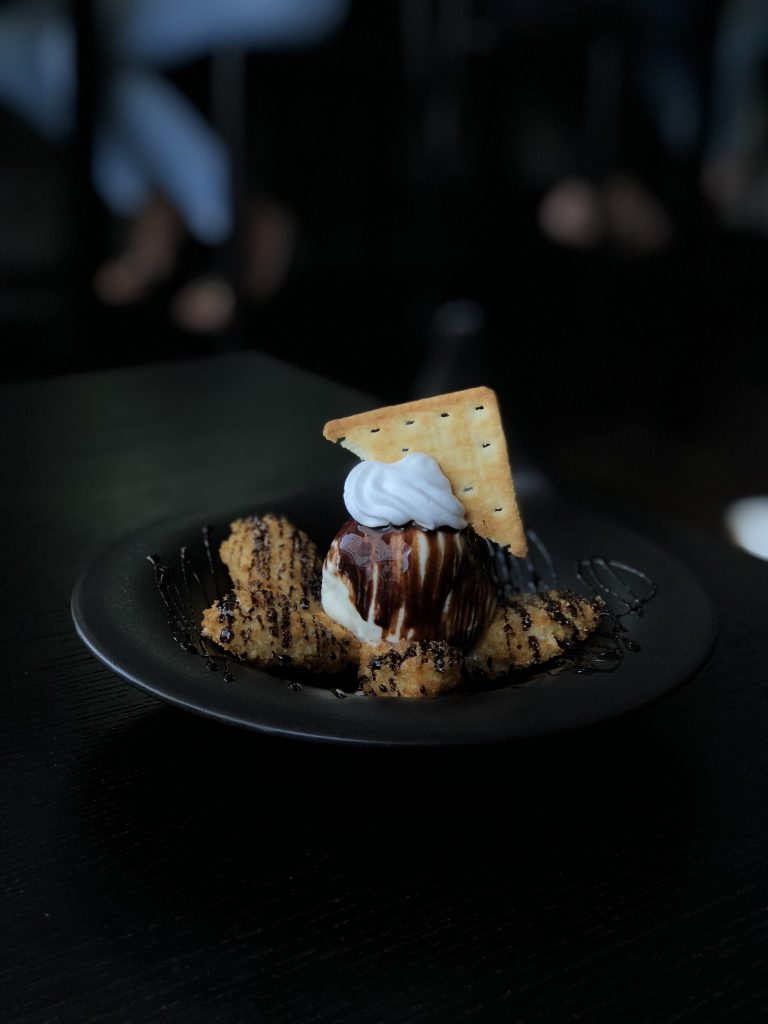 Service:
Service was good and courteous staff right from entering till I leave the place.
Overall a Great Experience! Will definitely visit again with friends and family
---