Punjabi Affair With Chef Tikka Singh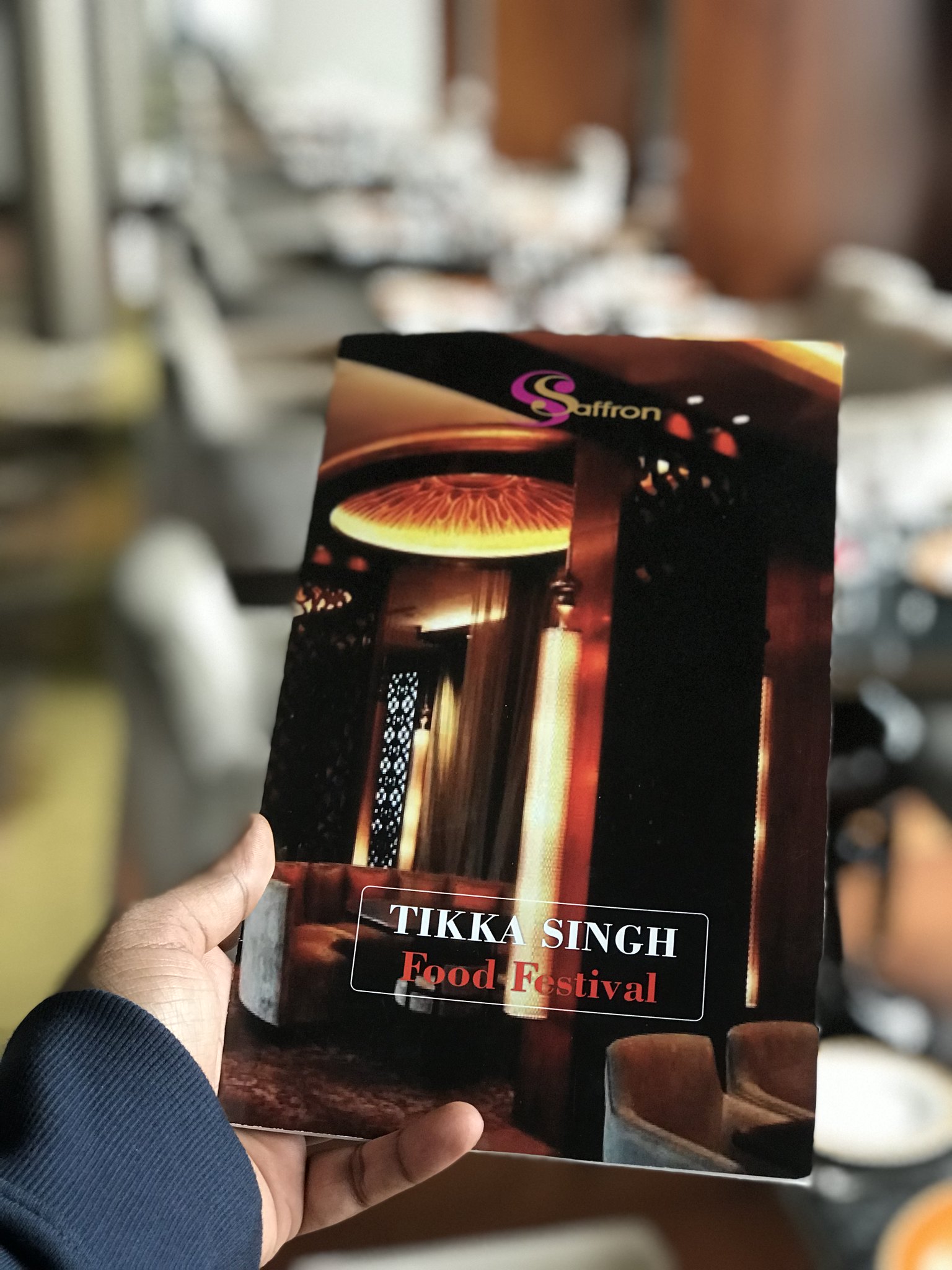 The minute you say Punjabi for a foodie, One remembers their hospitality to stuff you up and of course delicious food. Now Imagine this lethal combo on an 18th floor with a view. Now imagine the food is curated by a very renowned and celebrated chef who has a dish in his name, Chef Manpreet TIKKA Singh. To keep it authentic he has actually sourced a lot of these ingredients from Chandigarh. All this curated by one brilliant team Shangri La Bengaluru.
I am just getting started on my experience here. I was invited to Shangri La's most celebrated restaurant Ssaffron for their 10 days Dhaba Pop-up, "Tikka Singh Da Dhaba". This Feast is lined up from August 2nd to Aug 11th, 2019.
Chef Tikka Singh, a Punjabi Dhaba cuisine expert, brings the rustic flavours from the streets of Majha, Malwa and Daoba to the heart of Bengaluru and to Ssaffron diners. Punjabi cuisine, known for being bold and spicy, draws culinary influences from the Harappan civilisation dating back to 6000 BC. Chef Tikka Singh, a native of Chandigarh will give city's diners the wholesome flavour of the culinary landscape of Punjab, as he prepares traditional favourites using the most authentic cooking techniques and highest-quality ingredients. These dishes I am sure will remind you your Pind back in Punjab.
We were first welcomed with the world famous drink Lassi. This was totally refreshing the rich creamy lassi also had a hint of saffron to live upto the name where it was served. On the table was the Amuse Bouche Punjabi Style, Kalimirch and Dal ka Papad served with 3 types of chutney's. Dhaniya harimirch Ki chutney, Kachey papita Ki chutney, Bhunney tomater lehsoon Ki chutney. I couldn't stop eating them, that we got a second helping and chef had to literally stop me so I could try the main food I had come for. 🙂
Chef ordered "Let the Kebabs begin" and there was the brilliant line up of food on our table. First up was a very very interesting Fish kebab and they called it Nimbu Achari Machi Tikka, Fresh Salmon marinated in Pickle sauce and then topped it with Lemon to give it a yellow texture. This kebab was so delicious that my mouth is watering when I am writing about it. The Freshness of Lemon and the hint of spice from the Achar was a lethal combination with the pink salmon. I was speechless for almost 3-5 mins. Check the picture for yourself.
Soon Prawns made its way to the table and for a minute I was not very sure if it was prawns I was looking at. Reason, They were that big, It was Tiger Prawns and boy they were mouthful to chew. This dish was called "Tandoori Anari Jhinge" and it was Pomegranate infused Andaman Prawns cooked in clay oven. The smokey flavour with that twist of pomegranate was spectacular.
There came in a Veg Kebab which I couldn't resist but try just for one reason the expression on my fellow people dining with me. This was Muktsar walli Badam di Tikka, This was veg patties mixed with almond paste and then shallow fried on a pan. The twist was badam crumble on the either side to give it that crunch. This literally transported us to heaven and back.
This was quickly followed by Ajnala da Bhatti Murgh and Lawrence Road di Meat Chaap, The grilled chicken with a twist of lemon juice and Lamb Chops grilled punjabi style was phenomenal. The spice levels were just perfect and kept us wanting for more. However, we had to stop here for the main course.
Main course had to make its grand entrance and from the second I saw it I was committed to one dish, Lahori Naan. This naan had a very unique texture and grabbed my attention right from the start. I paired it with Peppey walle Cholle, This cholle had a brilliant twist with Ginger strands that gave it a texture which was outstanding. (How can it be a punjabi food without chole right?) but then there was another veg gravy which begged for attention and eventually became show stopper, Harimoong te Palak Bathu da Saag this brilliant dish was a combination of whole gram lentils with Spinach resulted in a super creamy gravy that melted in your mouth with the roti. Another gravy that caught my tastebuds by surprise was Abohar da Shalgam Meat. This gravy had this velvety texture and was blended in perfect spices. The aroma was simply inviting I had to dive into it with Achaari Pudina Paratha which complimented each other so well.
Now I was absolutely full and was thinking to myself "how much I overate" and this experience is inevitable if you are hosted by a Punjabi chef and the best of Shangri La staff has come together, Suddenly Chef Tikka Singh utters the magical words "Ready for Desserts" and in no time the dessert compartment in my tummy shows up space and gets ready. We were served with three desserts, One was photogenic, Second was soothing but the third one was intriguing. Obviously, I jumped on the most intriguing dessert "Chakundar da Halwa". A halwa made of Beetroot, I was instantly floored at the first bite. It was nothing like I expected or tasted before. I am in loss of words to express how amazing it was, I would simply say just order it and eat. Soon followed by Meethi Seviyan the comfortable kheer and Boondi with Rabdi.
They say to work well one must have been fed well. It was not true in my case, I just skipped all my work for the rest of the day and cuddled with my tummy and had a great afternoon nap. I went into depression when my wife offered me a salad for dinner because I ate so much in the afternoon. I would still say it was ALL WORTH IT!
When: 2–11 August 2019
Venue: Ssaffron, Shangri-La Hotel, Bengaluru
Time: Lunch – Noon to 3:30 p.m. | Dinner – 7 to 11:30 p.m.
Booking: (91 80) 4512 6430
Overall Rating: 5/5
Ambiance : 5/5
Service: 5/5
Food: 5/5
Value: 5/5
Clearly this place is part of #WOMPINDIARECOMMENDS
More about Shangri-La Hotels:
Shangri-La Hotels and Resort, an iconic flagship brand of the Shangri-La Group, currently operates over 80 deluxe hotels and resorts with a room inventory of over 35,000. Renowned for its distinctive Asian hospitality, the Company has properties in Australia, Canada, mainland China, Fiji, France, Hong Kong, India, Indonesia, Japan, Malaysia, Maldives, Mauritius, Mongolia, Myanmar, Philippines, Singapore, Sri Lanka, Sultanate of Oman, Taiwan, Thailand, Turkey, the United Arab Emirates and the United Kingdom. The group's award-winning Golden Circle loyalty programme extends to all properties of Shangri-La Hotels and Resorts worldwide. For more information, visit www.shangri-la.com.
---